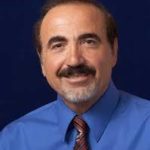 Meet Aysar Naji: The creator of Mangish.com
By: Francis K. Khosho
It's not every day you find someone who, on their own, can create a standout website, that impresses the masses. Mangish.com is exactly that. It is a community- focused, insightful website that was created to assist Mangishnayi all over the world to stay in touch with one another. The creator is a descendent from the village of Mangeshi, Kurdistan Iraq by the name of Asyar Naji
Over the years, I have been a frequent consumer of the website Mangeshi.com. I enjoy reading the various articles and contributions of members of our community, and it has always allowed me to feel presently connected with our homeland. I have always wanted to know more about the mind behind the website. Who he was as a person? What gave him the idea to start this website? I felt that if I ever had the opportunity to travel to Germany, I would love to meet Mr. Naji and ask him those questions in person
My wife and I had always discussed traveling to Europe upon retirement. I decided that if indeed we were going to plan a trip to Europe that Germany would have to be at the top of the list. Not only did I have friends and family that resided in this mysterious country, but it was also the birthplace of Mangish.com and home to its creator. We ultimately planned our trip, and I knew that while I was there I had to reach out to Mr. Naji and make a special detour to meet him
Visiting Germany one automatically thinks of World War II, Hitler, Nazi Germany and the genocide of the Jewish people in the Holocaust. Our minds go to a dark and gloomy time in our world's history and fail to remember all of Germany's many remarkable contributions. For example, the automotive industry. Germany was responsible for the creation of cars that led to the modern day motor car, and quality makers such as Mercedes Benz, BMW, Audi, Volkswagen and Porsche. Germany also made contributions through the many intellectual minds who were born and raised there. For example, Albert Einstein, Karl Marx, and Johann Wolfgang von Goethe. Tremendous writers, thinkers, and philosophers. Germany is a wondrous place, whose history is rich in culture and tradition. A visit was long overdue and I was looking forward to seeing how our people were doing in this part of the world
It was raining, not a steady downpour, but a slow persistent rain. We pulled up in front of the Naji's home in Adelschlog, a lovely beautiful little village of 2,840 inhabitants in the district of Eichstatt, Bavaria Germany. This was located between Munich and Nuremberg and was close to the famous Danube River
When we arrived, we were warmly greeted by the Naji family and were instantly spoiled with the Mangeshnayi tradition of a feast of different kinds of appetizers (Meza). It is one of our favorite ways of catching up surrounded by plenty of food to eat and various drinks. These irresistible dishes, would only set the tone for the delicious dinner that was yet to come. We started conversing with
one another right away and discussed many topics, including life in Germany, the United States, and of course, the good old days back in Mangeshi and the fun shared experiences from our homeland. The discussions of back home always create an automatic bond
After every one had restored their energy with Meza and German beer, we all gathered for dinner as the dining table was fill of our Mangeshi traditional food, Beryani, Koba, Dolma, stuffed boneless chicken, and salads. As dinner wound down, it was time for boiled black tea (chae') and various desserts. I used the opportunity to have a moment with Aysar and ask him the questions that had always been on my mind. We went to his study upstairs on the second floor of their house which happened to be the birthplace of Mangish.com. Right away we began our conversation and I began by asking Aysar
FK: Mangeshnayi all over the world are curious to know who the mind behind Mangish.com is. Tell them a little bit about yourself
AN: Well, my name is Aysar Mowafaq Naji. I was born in Baghdad, Iraq on June 23, 1981. I am married with two kids, a son and a daughter. I speak three different languages, Chaldean, German and Arabic, and I completed the eleventh grade in Aqba Ibn Nafi'e high school in Baghdad. I left Iraq with my family and went to Jordan, we settled in Germany in the year 2000. After our arrival in Germany, I began studying computer science and web programing languges such as PHP, HTMI and JAVA. I have since created several websites including Mangish.com in 2009. Currently I work for Audi's main company depot in Ingolstadt, Bavaria in Germany. As far as my family, surely you know my family Francis, both my parents are from Mangeshi, my father is Mowafeq Naji Hanna. My grandfather was known as Hanodaji and was killed in Mangeshi in 1930, and my mother is Maria Shabo Nano
FK: Tell me about your experience in creating the website Mangish.com
AN: As I mentioned earlier, Mangish.com came to life in 2009. Before this time our home town of Mangeshi was not known in the world of the internet. This led me to the idea of founding Mangish.com. At the beginning, I bore the
responsibility alone despite sharp criticism from some Mangeshnayi members who would send me some harsh comments and words. Among some of my critics, a person that I do not want to name said that our website was going to be used as a money maker (deep pocket website) and therefore he objected to join us. I thought at times to stop the website, but thank God for my love of my people and the village of Mangeshi. All this forbade me from discontinuing the website. After two years of from its creation, Mangish.com has become very well known to the sons and daughters of the village of Mangeshi and many intellectuals and writers have joined and supported the website through their scripture. Warda Ishak was our first contributor with his spiritual articles. Also, Dr. Abdullah Rabi, a sociology professor, who has made a substantive contribution to our website with his remarkable articles, particularly his series "Mangeshi Beauty and Tender," Father Momtaz Issa Qasha has also contributed religious articles. As you know Francis, he is in Italy continuing his theological education. Sami Desho and others such as yourself, also participate with your valuable and beautiful stories. Then in 2011, I met Dr. George Marqos Mansour who lives in Canada. He showed a passion and desire to work with and expand the website. I had full confidence in him and appointed him as superintendent of the website. Due to his outstanding effort, the number of writers and visitors increased. This was also thanks to his previous administrative experience as the Dean of the College of Medical Technology in Baghdad. Dr. Mansour also contributed many articles, interviews and direct coverage of the events of our people from our hometown Mangeshi. Also through the contributions of our correspondent Leuven Qulo, who eventually left our site to join the Priesthood seminary
FK: Tell me about the implementation, maintenance, and expenditures of the website and what your typical day is like
AN: For the most part, I personally take on the responsibility of making the site worthy of the Mangeshi Village name and parallel to other websites. I update the side periodically, with regular maintenance by watching the daily news, adding news and political developments and technical features that requires me to work on the site up to four to five hours a day. I assume all the expenses of the site, so far the site has not received any donation from anyone since the founding of the site as I have not asked. Francis, I had mentioned to you that I have a desire to develop the site further and wider by providing a server for our site only, because currently we share a server with 15,000 other sites. If we had a private server, the site could have a qualitative leap in the number of visitors and will appear in the
primary results of search engines, especially the Google search engine, but this requires 5000.00 to 7000.00 Euros a year that I cannot afford by myself.
FK: Well, do you have any last words about Mangish.com that you would like to say, or would want the readers to know
AN: Yes, in the past five years the site has had an effective impact on Mangeshnayi all over the world, where it has become a meeting point and continues to interface and transfer their news and events. Also, the site has won the hearts of most Mangeshnayi and become a source of pride as I get regularly get letters from all over the world. As you know Francis, one of the many accomplishments of this site, was the support of our dear Mangeshnayi all over the world who took the initiative in supporting our displaced people from the Nineveh Plain Villages. This transcended all geographical barriers where people showed their support and their love. The support garnered through the website proved the love of our people and we were able to send those contributions to Father Yoshia and the Mangeshi community in the village of Mangeshi.
I then took the time to thank Asyar by first expressing our great appreciation for his efforts and the efforts of his staff in making Mangish.com available to us all. I know that he has expended a great deal of personal effort during the past five years and to thank him adequately is not possible. This website was created for the greater good of our community. It gives us a place to communicate freely, interact with one another, and support one another in an immediate and efficient way. It is my hope that through his efforts and personal sacrifice, Mr. Asyar Naji truly knows the contribution he has made in strengthening our Mangeshi community.
I encourage our community member and friends to go online and explore the various sections that Mangish.com offers. Also, our communities support and contributions are what will help us continue to expand and grow. Thank you all for taking the time to read my interview with Mr. Naji. I am proud to be a brother in your community